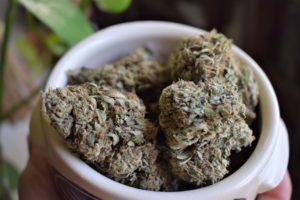 From the stables of Oregon CBD comes this fast-rising CBD flower – Lifter CBD flower. The strain contains anywhere between 12 to 25% Cannabidiol (CBD) and below 0.03 delta 9 tetrahydrocannabinol (THC) .
You can visit our CBD Flower Store
Physical appearance

Lifter strain CBD flowers look like vertically stretched leaves – they have a narrow wisp-like appeal. The trichrome-infested buds are typically dense and frosty. The flowers come in vivid-green with orange-tan hairs and purple tinges. The nuggets are literally covered with crystals all over.
There's, however, one growing concern with most CBD buds and industrial hemp on the market – in a bid to 'save production cost,' they are usually grown in large outdoor farms, instead of indoors. When grown outdoors, the buds tend to lack the frosty super light-green consistency notable for most CBD strains. For best quality, we encourage indoor grow set up.
Origin
Oregon CBD takes credit for breeding the Lifter CBD strain. The Suver haze x Early Resin cross resulted in a good yielding CBD-rich strain, perfect for both producing CBD-infused products and direct consumption.
Aroma
The buds give off a pungent earthy aroma with hints of floral and some sourness. Its attractive woody smell is a key temptation for many users.
Taste
As with the smell, the buds leave some earthy notes after the dosage. Its rich terpene profile offers a smooth fruity flavor with a soothing piney undertone and a kick of funky lemon.
Effects
Lifter is arguably one of the most sought-after Cannabidiol-rich strains, with up to 24% CBD and 16% CBDA. But besides CBD, Lifter contains high Cannabinoids such as THCA, and cannabigerol (CBG).
Lifter CBD Strain
• CBD .24%
• CBLA .00151%
• CBCA .73%
• THCA .63%
• CBGA .41%
• D9-THC ND
• CBDA 16%
Total Cannabinoid content in the strain measures 18.1%
Terpenes Profile
• Limonene
• Humelene
• Geranyl Acetate
• Farnesene
• Myrcene
• Caryophyllene
• Bisabolol
• Pinene
Legality
It is noteworthy that this industrial hemp product is sold but to persons 18 years and above. The buds were grown by cultivators with a state-recognized license, based on the Agricultural Act 2014 Industrial hemp provision – commonly called Farm Bill. The hemp has been certified and lab-tested to contain below the 0.3%, dry-weighted. It is not under any regulation or interference from federal law or the Control Substance Act. Take note – the Lifter hemp is not a prescription for diagnosis, treatment, prevention, or cure of diseases and other health conditions and is not FDA approved. Being under the legal 0.03% THC benchmark, the strain is adjudged legal across 50 states of the united states.
Caution:
IF you opt for the CBD buds, take note that the decision is solely at your risk. Remember – Inhaling smoke, regardless of the form, is widely thought harmful to one's health. All usage descriptions of the herbs are only for informational purposes. Such information has no scientific backings or FDA approval, and at such must not be referred to in any way for medical purposes. See our drug testing page for more.
Will Lifter CBD show up on my drug test?
Many drug tests and screenings target the presence of Delta 9 THC – they do not bother about CBD and other legally-safe natural hemp-based components. While the strain's THC content is widely thought insignificant (to cause a high), such seemingly irrelevant THC content is significant enough to ruin your drug test. However, the amount of Lifter CBD and other fluids consumed, number of CBD-based applications administered, timeframe between the most recent usage and the supposed test, are some factors that determines whether or not Lifter CBD flower consumption will ruin your test. So, while the likelihood may vary across users based on the mentioned factors, fact is, THC content in Lifter CBD can ruin your test. If you anticipate a drug test, we recommend you dose on a THC free CBD alternative such as pure isolate CBD oil.
Conclusively
Dubbed after the renowned tomato farmer, "Mortgage Lifter," the flower is best for indoor grow. Lifter CBD is an impressive strain choice for people looking to dose on a CBD-leaning strain – whether for direct consumption or further production of CBD-infused products. The Lifter hemp flower has a rich terpene profile and, of course, will do great with career oil for a good CBD oil.