The extension of the Hemp Pilot Bill was welcomed by many, but there are some farmers who are not happy. It was a critical time in America with the world-wide pandemic taking place, so was the extension the best choice?
H.R.8337 Hemp Stop Gap Budget Bill
The 2018 Farm Bill was a robust regulatory framework designed by the federal government. It delegated the United States Department of Agriculture (USDA) to directly work with all states and Indian Tribes on hemp growing licenses for commercial purposes.
In order for this to happen, every state and Indian Tribe needed to submit their own hemp cultivation plans to the USDA for approval. In doing so, the USDA can choose to approve the plans or ask for revisions.
The 2018 Farm Bill also gave the USDA the authority to provide hemp cultivation licenses to growers that would like jurisdiction to work in areas that they do not have an approved plan (as long as this jurisdiction does not explicitly prohibit the growing of hemp).
Farmers who did not get their plans submitted in time to the USDA before the deadline have now been given a one-year extension. This allows them to keep growing crops while local and federal regulators continue to hash out hemp regulations.
A stop-gap budget bill was signed by Congress, which will delay the requirements that the USDA have outlined. This extension will take effect on November 1st. From there, approved funding has been extended for the hemp pilot program until September 2021. This funding comes as a continuing resolution that was approved to help prevent a government shutdown.
What Is A Continuing Resolution?
The H.R. 8337 has been named a "Continuing Resolution" as this is used by Congress to provide temporary funding for a specific amount of time. This allows lawmakers to avoid government shutdowns when agreements cannot be met and it is necessary to provide government funding for a full calendar year.
Hemp Program Extension Bill
The original legislation was H.R.8337, which is known as the Continuing Appropriations Act. However, a modified version of the bill was submitted and approved which is H.R. 8319. So, if you are doing your research you may see both of these bills used simultaneously. Do not get too caught up in them, as they are both going after the same thing, which is extending the Hemp Pilot program.
The H.R. 8319 Bill was presented by the United States House of Representatives, which has provisions to allow current hemp farmers to continue operating under the pilot program until September 21, 2021. This would extend the program by nearly a year and allow states to comply with USDA regulations.
Why Was The Extension So Important?
Since 2014, when the Farm Bill was signed into law, farmers have legally been able to grow hemp across the nation. This bill created a pilot program that allowed hemp to be grown, but it was always the plan to receive USDA approval.
The 2018 Farm Bill removed hemp from the Controlled Substance Act, and states were given a deadline of October 31, 2020, to provide finalized plans to the USDA for approval because the pilot program would be expiring.
This meant that all states across the nation would need to comply with the new regulations that were set by the USDA before the pilot program expired. COVID-19 has presented a lot of obstacles, especially for the state departments of agriculture to finalize their plans and provide them to the USDA for approval.
Lawmakers, agriculture regulators, and hemp industry stakeholders all have been calling for an extension of the pilot program. This extension will allow states more time to get up to speed with the new regulations that the USDA has put into place for hemp. Without this extension, many states may be left in the dark as they are not fully up to speed with the new regulations that are being put into motion.
Industry Leaders Ask For Hemp Program Extension
The extension of the pilot program provided an answer that many industry leaders and lawmakers were seeking, as hemp growers needed time to adjust to the USDA's interim final rule (IFR) on hemp. These regulations align with the 2018 Farm Bill and are a more robust set of guidelines.
According to the United States Hemp Roundtable, more than a dozen states have been operating under the pilot program during the 2020 growing season. There was a provision to extend the pilot program in a recent House Agriculture Appropriations bill.
The general counsel for the U.S. Hemp Roundtable, Jonathan Miller said, "It became clear that the bill would not pass by Congress' September 30th deadline. This is when we changed tactics and sought this continuing resolution."
Individuals, organizations, and state officials have all advocated extending the hemp pilot program throughout 2020. On August 5th, Patrick Atagi, the board chairman of the National Industrial Hemp Council, and Barbara P. Glenn, Ph.D., the CEO of the National Association of State Departments of Agriculture (NASDA), delivered a letter to the members of Congress. It asked for the pilot program to be extended through 2021.
In the letter, they voiced their concern about the failure to extend the program would leave hemp growers "in a perilous situation through no fault of their own."
Atagi and Glenn go on to mention, "Many states will be unable to meet the forthcoming deadline of October 31, 2020. These states have cited that due to the unprecedented national COVID-19 pandemic, state regulators have been unable to work with their state legislatures to acquire necessary statutory amendments."
The commissioner of agriculture for the state of New York, Richard Ball, boldly stated that the state of New York would not develop its hemp plan unless an extension to the current pilot program was put in place. Ball reportedly has had issues with the "substantial elements" of the IFR's requirements.
Many within the hemp industry share Ball's view of the IFR. Several key factors need to be revised according to Ball. Some that have been pointed out include:
The requirement for hemp to be lab tested by the Drug Enforcement Administration (DEA) labs. The issue here is that there are very few labs that are registered by the DEA.

Methods of sampling, which would require a number of plants to be collected in a short period. Samples are required within 15 days of the harvest period.

The 0.3% threshold of total tetrahydrocannabinol (THC). The low threshold is hard for many growers to obtain.
It is thought by Miller and a number of other industry leaders that the extension may allow the USDA some time and flexibility to work out these concerns and have them finalized by the end of next year.
In a separate letter to the USDA, U.S. Senator Chuck Schumer (New York) called for an extension to the pilot program, as well as a delay in issuance of the final rule on hemp until 2022. At the moment, the final ruling on hemp is due to be issued on November 1, 2021.
The list of support to extend the pilot program continues. In August 2020, the NIHC along with the National Association of State Departments of Agriculture (NASDA) joined in writing to both the House and Senate asking for the hemp pilot program to be extended as part of the coronavirus relief package or as part of a continuing resolution. The USDA then re-opened the comment period on the hemp interim final rule. Supporters were then allowed to voice their opinions more openly.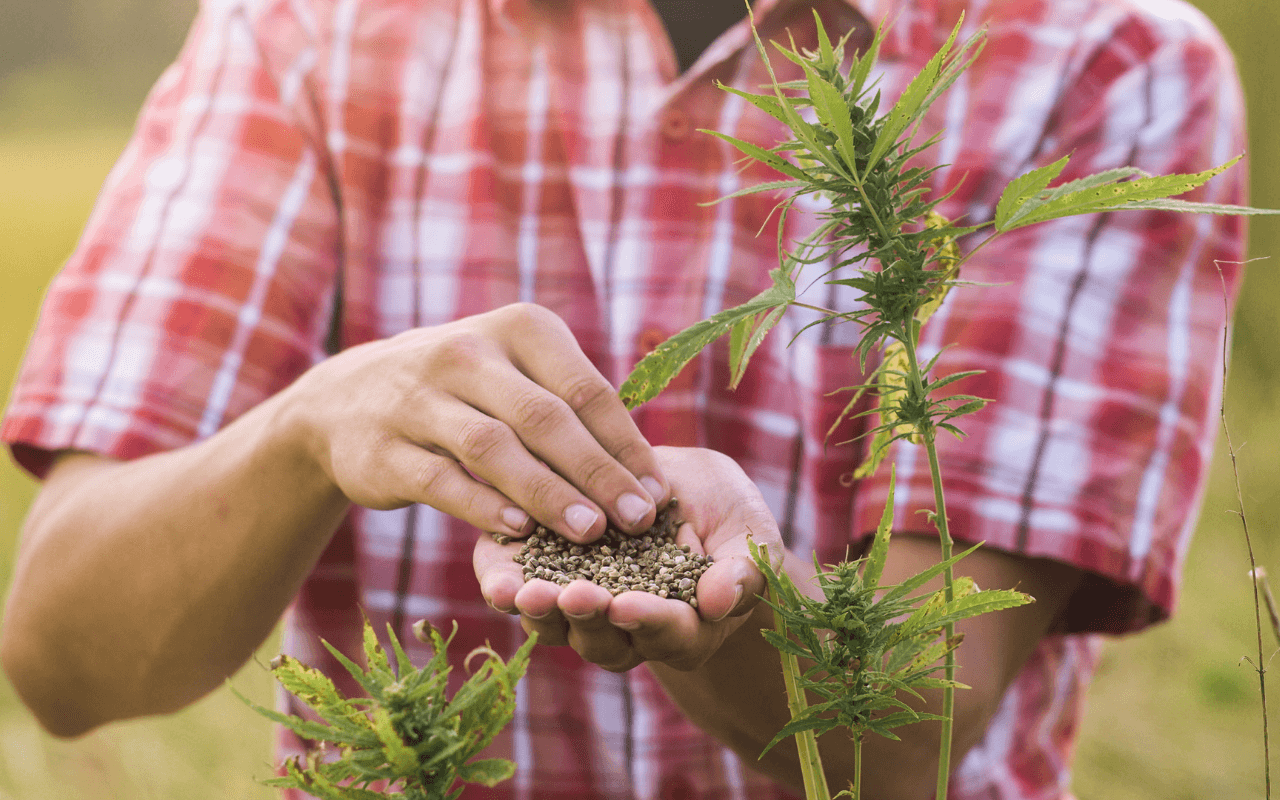 What's Next for The Hemp Industry?
For now, the extension has been passed and was signed by President Trump. This means that the pilot program has been extended until September 2021. States are now responsible to continue to work with the USDA to get their plans submitted and approved.
Meanwhile, the USDA has time to revise rules before they are finalized next year. There is a lot that can happen in a year, and the hope is that the USDA will amend some of its rules to help improve regulations for hemp growers.
However, state officials will not want to delay when it comes to getting their plans into action, as there is a process of review that must happen before their plans are finalized and approved.
Hemp Pilot Extension Not Happily Accepted By All Hemp Farmers
Hemp growers across the nation are aware of the importance that the one-year extension met for the Hemp Pilot Program. With the House voting for the extension and President Trump signing the bill, states that do not have federally approved plans can continue to cultivate their hemp crops for another year under the old regulations. This will allow states the time they need to prepare a plan to submit to the USDA for approval, as well as allow the USDA to work out any kinks in the program before it is signed off on.
Keep reading to find out more about why some farmers are upset with the newly signed extension.
The Extension
Hemp farmers and lawmakers were pushing for the extension, as many states, tribes, and territories within the nation would not be ready for the switch to the stricter hemp laws that are being implemented by the United States Department of Agriculture (USDA).
So now, states will continue to be grandfathered into the 2014 less strict regulations. This extension means they have time to finish out their 2020 crop before preparing for new restrictions set by the USDA. However, some see this as an issue because many states have not even begun preparing their plans to submit to the USDA for approval.
Most individuals within the hemp industry were pleased with the delay as it brings stability to hemp businesses that do not yet have USDA-approved plans. However, the industry also recognizes that the USDA needs to make some improvements to their bill before it is fully implemented. Otherwise, the new restrictions could jeopardize the budding hemp industry.
States that are getting another year to work on their federally approved hemp plans include some of the top producers in the nation: Arizona, California, Colorado, Kentucky, Michigan, and Oregon.
While the extension is set for September 30, 2021, to expire, many feel that this could be an issue because it will again come at mid-harvest. So, this means if a state does not get their plans approved in time, crops could be jeopardized.
Vermont hemp farmer Herrick Fox, a former USDA executive who worked on rulemaking commented, "I feel it makes more sense to extend to December 2021." This could happen, as Congress will need to pass a budget before December 11, 2020. Things that cannot be "fixed" in the appropriations bills before December 2021 will likely be addressed in the 2022 Farm Bill, commented Fox.
Anger In The Air
For the 20 states that have drafted plans that have been approved by the USDA, there is some resentment as they will be placed under a more stringent rule set that will take place on November 1, 2020.
These states feel that the delay created two sets of standards. Meaning those who will continue to operate under the 2014 rule have an advantage over states that are 2018-compliant. They will have an easier time growing hemp that yields high-CBD levels. Those who are operating under USDA-approved plans will have a tough time growing high-CBD hemp without it tipping over the THC threshold of 0.3%.
Farmers in Louisiana will be operating under the stricter THC testing standards, and according to Pat Jack, "They have not spent money, time, or had the resources to plan and commit to the new regulations." This will pose a disadvantage for them as they enter 2021. Jack continues to say, "They can't compete with the old hemp states." Meaning they will have a huge disadvantage compared to those operating under the old regulations.
Andrea Steel, a Houston lawyer, commented on LinkedIn that the double standards for 2021 mean that, "Texas and other states will lose out on another year to get on a level playing field with competitors." It is easy to see that those states who will now be forced to operate under the new USDA restrictions will have more issues growing crops that comply with regulations that need to be restructured.
Issues With The Rules
There have been complaints about the USDA's hemp regulations since they were released last fall. Here are the major concerns that hemp farmers are facing:
More disposal options for non-compliant crops.

Required testing of plants within 15 days of the anticipated harvest.

Growers could face criminal charges if their crops contain more than 0.3% THC. In this case, plants would be destroyed, and if the THC level reaches 0.5% or more then the farmer could be criminally liable.
"If hemp is truly a commodity crop … we need to consider some changes to the way the rules are interpreted to allow for more margin of error for farmers and to allow this crop to get off the ground," said Josh Schneider, CEO of San Diego-based Cultivaris Hemp. He specifically pointed out the issues with the THC levels to the federal lawmakers.
Many farmers see issues with the 15-day testing window. This new rule would greatly narrow the current 30-day window that farmers are operating under. This could pose a labor issue when yielding large acres of crop. 15-days is a very tight window and could cause budget issues for many farmers.
While commenting sessions have been held with the USDA, farmers are still anxiously awaiting revisions to the strict regulations that the USDA has put into place. All that they can do is patiently wait and hope that the USDA sees the issues and will make a motion to fix them.
Until then, hemp farmers who fall under the new regulations are not happy with the extension that the remainder of the states has been given. It puts them at a huge disadvantage, which could cause them to lose out on a lot of business.
CBD Flower USA
As a vendor for CBD flowers, we offer the latest news in the industry. We understand the issues that are being faced and want to make sure that our customers have the latest news at their fingertips. After all, if you are unable to get your favorite strains, such as Sour tsunami or Purple Gas you want to know why. If you have any concerns please do not hesitate to reach out to us here at CBD Flower USA. We are also the proud owners of Oasis Kratom if you would like to check it out.
Disclaimer: CBD Flower is not used to treat, cure, or mitigate any disease, illness, ailment, and/or condition. We make no representations as to intended use or suitability for use.